whether it's a woman or a man If you have hair problems, hair loss, thinning hair, dandruff or baldness. It makes us lose confidence in many things because we have to admit that hair is the key element, in which helps us look good in our own way. When we have hair or scalp problems, the best solution is hair transplantation.
BHI Clinic has an expert team of hair transplantation physicians that has direct experience to precisely analyze patient's problems, including choosing the suitable treatment method and technique for each patient.  Presently, BHI Clinic has many types of hair transplant technology.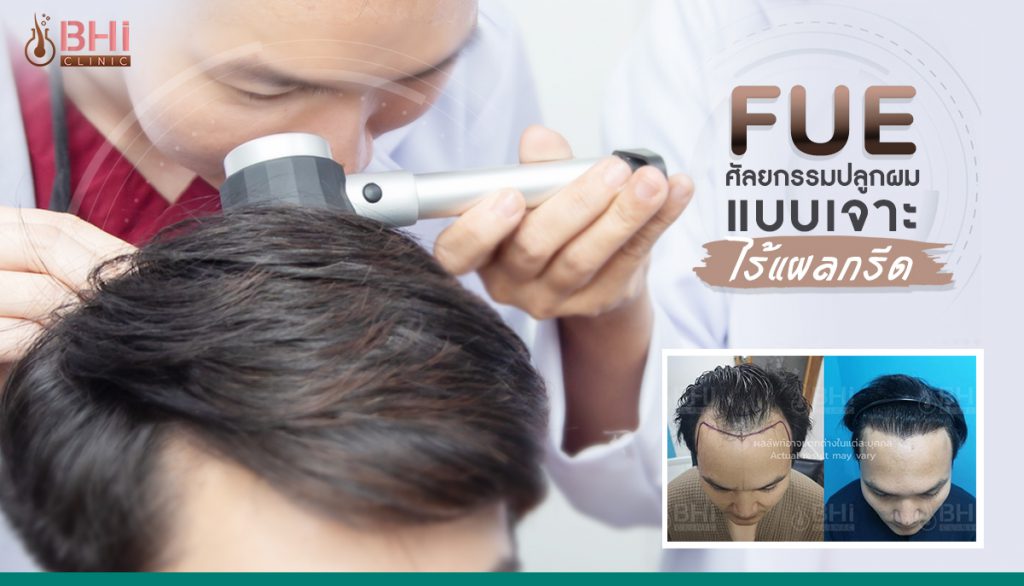 1. FUE hair transplant surgery without incision
FUE (Follicular Unit Extraction) Hair Transplant Surgery with the technique of piercing the hair roots without surgery virtually without scars by using a specific tool similar to a syringe with a head size of 0.8 – 1.0 mm to penetrate and move the hair follicle cells.
The FUE hair transplant technique requires meticulous care, under supervision of a physician with American Board-certified hair transplant surgeon for the results of the hair follicle transplantation. This reduced the rate of trauma and increased the number of grafts.
FUE technique does not require a large biopsy, no stitches, no suture removal, it will have only small scar virtually invisible in hair transplantation. It uses only an anesthetic supplemented with a light sleeping pill, quick recovery, wounds healed quickly and painlessly.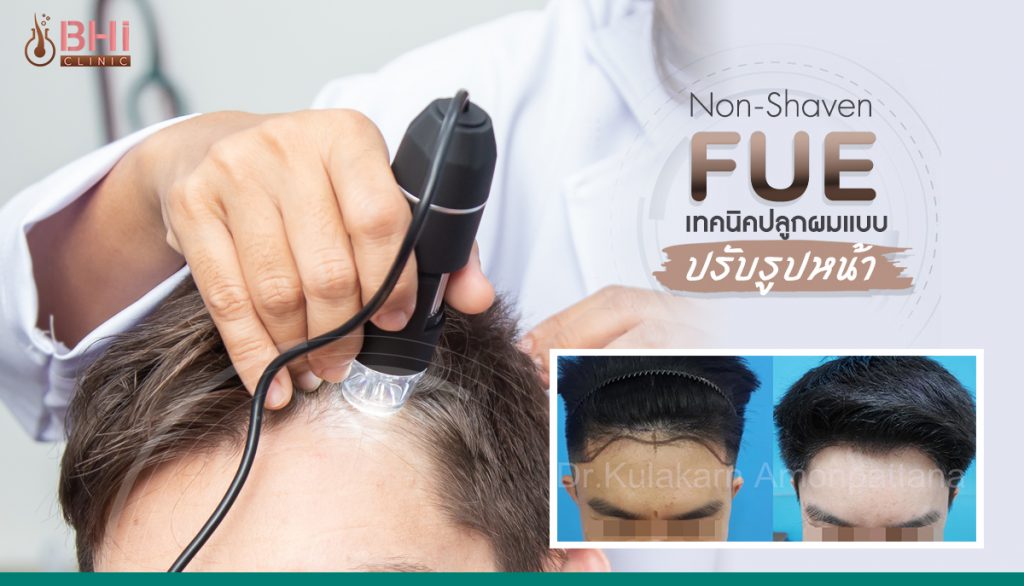 2. Non-Shaven FUE Hair Transplantation Technique
Non-Shaven FUE hair transplant technique focuses on hair transplantation to adjust the face shape that suitable for each individual person. This hair transplant technique is very popular for both women and men.
Since it is a specific technique that require physician experiences in hair designing to suit the face shape.  Non-Shaven FUE is a non-shaven hair transplant technique. It requires comprehensive and meticulousness, therefore the results are very rewarding, it doesn't require shaving, and it doesn't take long.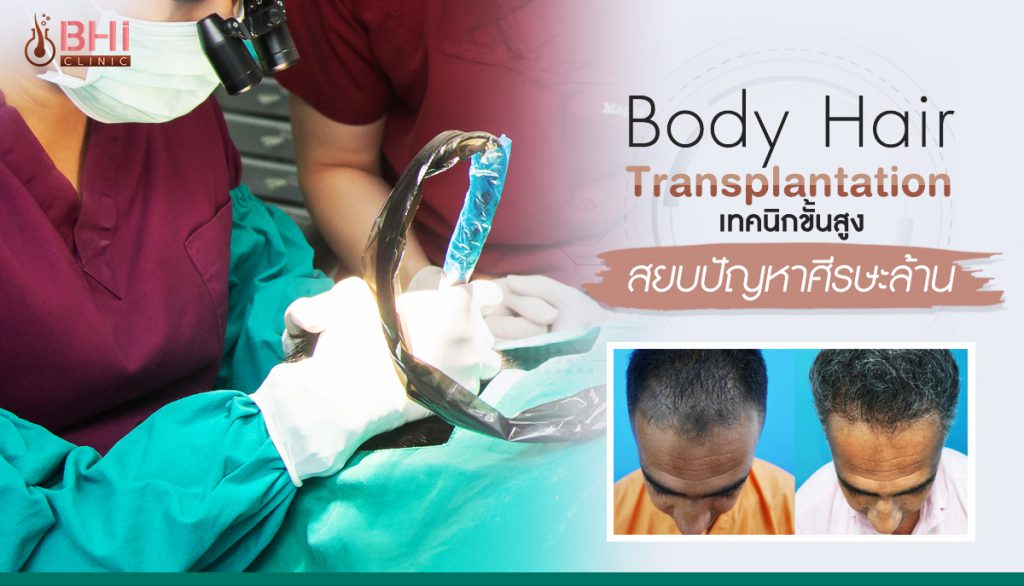 3. Body Hair Transplantation advanced technique overcome the problem of baldness
Many people may think that hair transplantation uses only the hair roots from the back of the head. With advances in technology, we can use hair roots from other body parts to replace the lost hair. The replacement area that is most popular is the beard or other parts that can be replaced.
Body Hair Transplantation is suitable for people who have a lot of baldness problems.  It's a hair root transplant surgery that requires advanced surgical skills and there are only a few physicians who can do this.  At BHI Clinic, our physicians able to offer this technique for the treatment.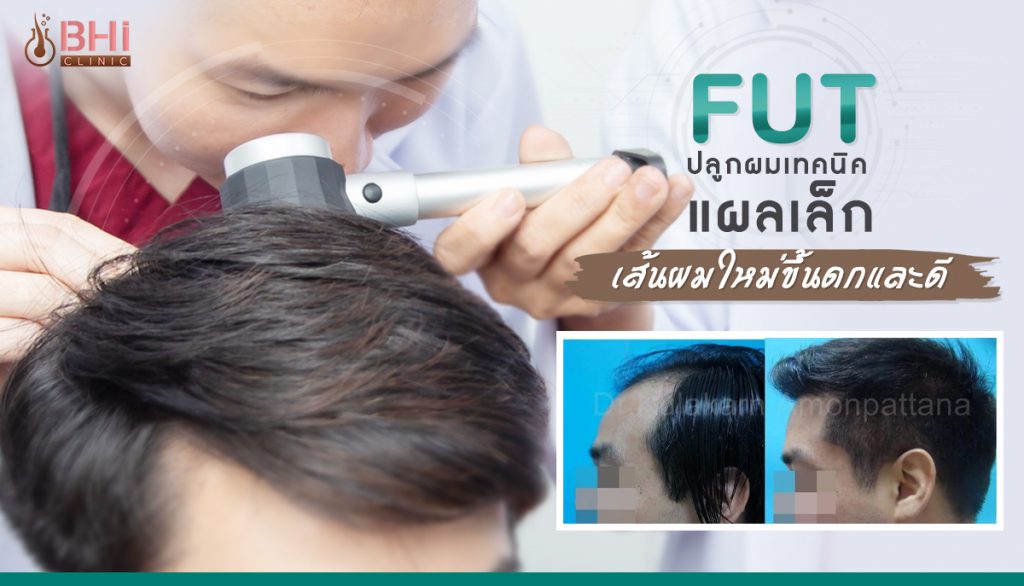 4. FUT hair transplant with small wound technique New hair is lush and good.
Hair transplant technique with FUT (Follicular Unit Transplantation) is a technique that has been in existence for more than 30 years, it is use to move skin cell from the back of the head then divide the hair Follicle then transplant it in the desired locations.
These procedures must be performed by highly skilled physician and technician. The hair follicle cells division require high resolution microscope. Strip or FUT surgery will leave a long occipital scar, but the wound is as small as a pencil mark and the remaining hair at the nape of the neck can cover the wound.
The advantages of this surgery technique are that it gets a lot of hair roots and can be planted in a wider area, grafts or hair bundles are less traumatized with good growth rate.
The limitation is that long scars that require covering up have a recovery time of approximately 1-2 weeks and are more painful than piercing method (or FUE).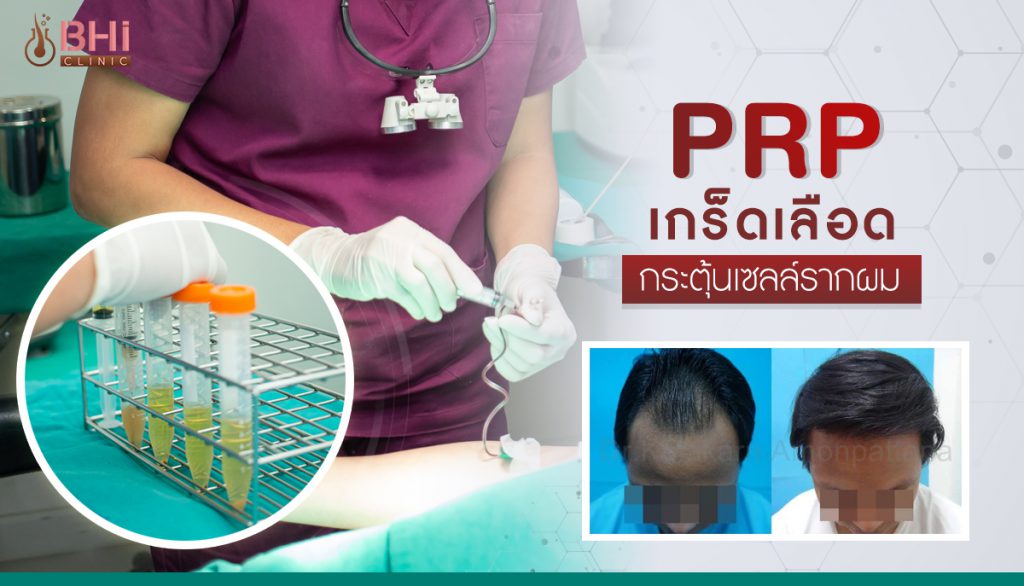 5. PRP platelets stimulate hair follicle cells.
PRP (Platelet Rich Plasma) is a concentrated platelet injection to stimulate and nourish hair follicle cells using the patient's own platelets, this technique is one of the most widely used.
The efficiency of PRP depends on the technique of each service facility. Selection of the platelet injection site on the scalp and the right amount of platelets, including in process treatment which required detailed of work in order to repair and rejuvenate the hair follicles cells' functions effectively.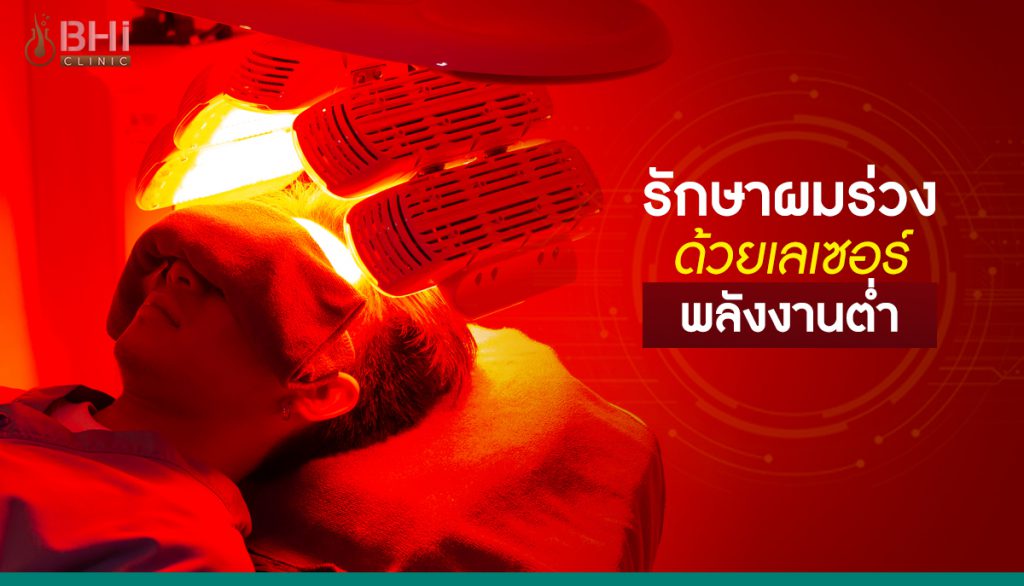 6. Hair loss treatment with low energy laser
Hair Loss treatment with Low Level Laser Therapy (LLLT) is a treatment using low energy laser therapy which is new alternative for people with genetic hair loss problems. By using a laser light at wavelength range of 630-670 nanometers, its effect in stimulating cells to generate energy, increase blood circulations and nutrients to fully nourish the hair roots and scalp. Yield in treating hair loss, thinning hair, baldness and increasing hair density.
The research studies shown that when beaming a low-energy laser also known as 'Cold LASER' on a test tray containing hair follicle cells, it was found that there is changes in hair growth at 16-24 weeks and from the Multicenter trial concluded that Low Energy Laser Therapy really works.  Nonetheless, it's like using of medicine, it may have good results in the early stages or to support the quick fall out and it has a good response in most patients, not all.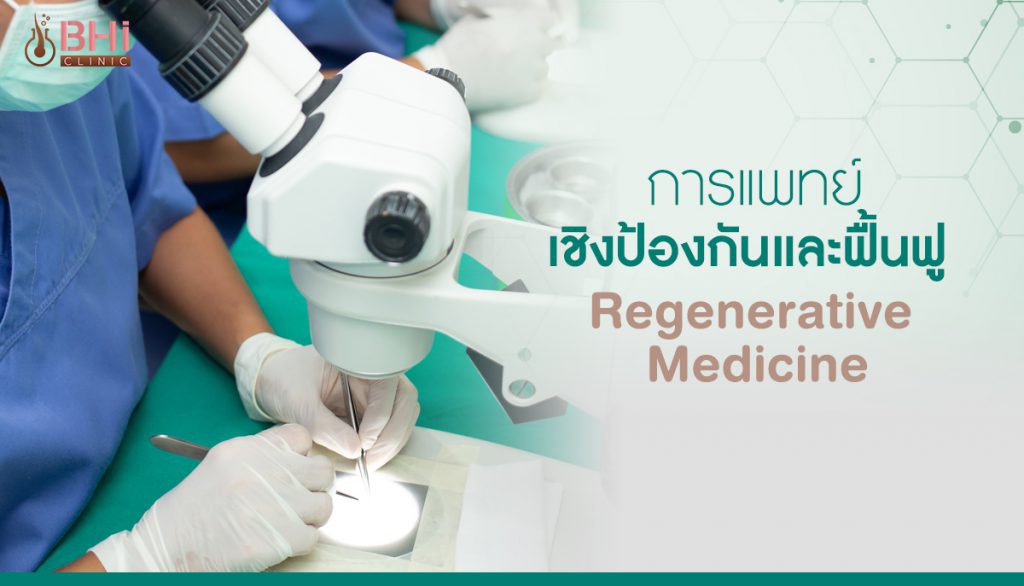 7. Preventive and Regenerative Medicine
Regenerative medicine is to stimulate hair follicles to become alive using cells techniques. It is necessary to explained about our hair follicles when we were young, it can fully generate protein in which yield in healthy hair, strong, dark, soft and smooth. When we are aging, Hair follicles cells are weaken with time, in order to make your hair beautiful as before, it requires maintenance. Nonetheless, as technology developed, regenerative medicine techniques avail to stimulate and revive the hair follicle cells.
BHI Clinic believes in and intends to study in the field of Regenerative cell therapy. We have a laboratory where cells can be cultured and systematically researched. Our treatments include PRP (platelet concentrate) and hair follicle stimulation. For more information, please contact BHI Clinic.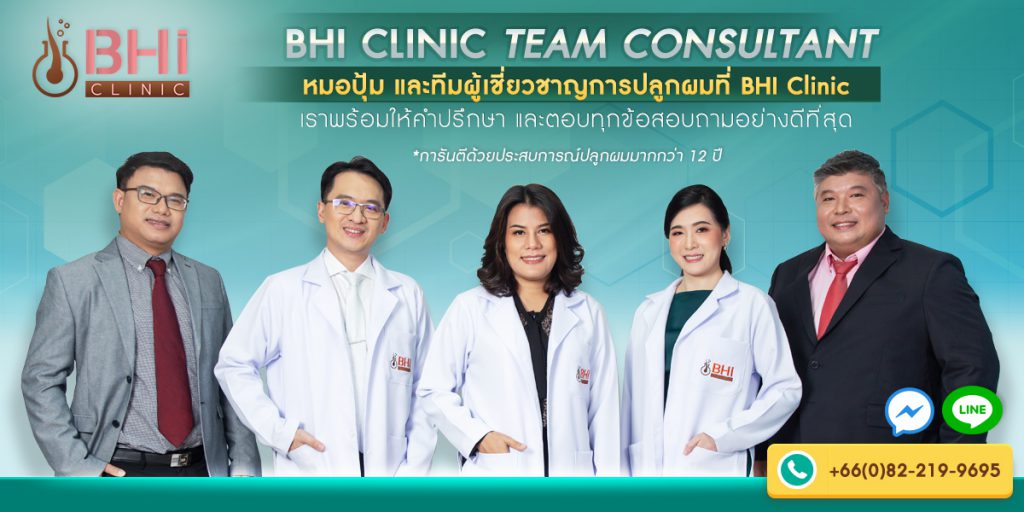 BHI Clinic is not only a leader in hair and scalp treatment, the physician team are real expert in the field. We use modern technology, focus on holistic or integrated hair care, combining perfectly with the use of technology and efficiently into a One Stop Service center for your hair.