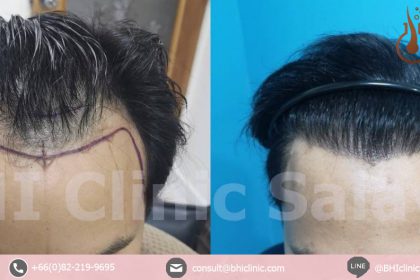 "For athletes, a jump of one more centimeter is a victory. For hair transplant doctors ,making
hairline that is smooth, beautiful, natural is the most important measure of skill. "
Most people who have genetic hair loss problems. Will have all the similar patterns, starting with the
pinup head creating a new hair style that matches the patient's face is important, delicate, and
making the hair line smooth and beautiful like nature, can be even more challenging
At BHI, we have a protocol for designing each patient's hair style to be balanced with the face. Each
person has a face mask. And the desired hair style is different, we apply the concept of tailor suit to
hair design.
In a universal suit cut Service recipients can buy a universal suit that has already been cut. Or ready-
wear suits. This type of suit will have patterns that are already made and of various sizes according
to the catalog. When you try on it, if it doesn't fit, then you have to fix it by yourself. But for a good
suit shop, there will be a body measurement so the tailor will adjust the size to the shape (Tailor
made). This suit will fit and fit. Looks better than the ready to wear suit.
However, there is another cutting technique that is superior to ordinary measurements, "Bespoke"
in which designers have to talk to customers. In order to understand personal identity and taste In
addition to accurate measurements. The designer will have to compile the character, posture, or
motion gesture to design the new pattern. The suit that is cut is therefore premium. And fits with
the wearer both physically and spiritually the most
This delicate and artistic work cannot be done through machinery. Or brain, so BHI, we pay attention
to the details here the most .We use the concept of tailoring suits like Bespoke to design hair styles.
Not every time we will indulge the client If the desired hair style is not pretty natural The doctor will
understand until a good conclusion is reached on both sides. If not perfect, we may reject to do
surgery.
Therefore, if asked which procedure the doctor will spend the most time with the patient is the hair
design process.
"He who works with his hands is a laborer.
He who works with his hands and his head is a craftsman.
He who works with his hands and his head and his heart is an artist."
― Saint Francis of Assisi